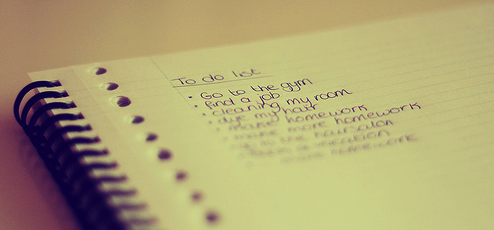 I've found that it's often very hard for me to go through a day without feeling like I've accomplished something. And it can't be something "everyday-like" that I accomplish---it always has to be something from a lingering to-do list or at least a "medium-level" accomplishment. I have to finish freelance writing or hang all the pictures in my room or go grocery shopping as well as run all my other errands. Maybe it's the
Activator in me, but it's easy to feel empty or anxious or wasteful if I'm not out "doing" all the time. I don't think this is how Jesus called people to live. I think He wants us to live with excellence and move forward in life, but I don't think He meant for weekends or evenings to feel so full all the time. I don't think He meant for us to constantly be looking at post-it note lists and never feeling accomplished. I don't think He meant for us to pack our schedules full of coffee dates and get-togethers that at some point, it starts feeling like there's no time to breathe.
If you feel like you're running up a rockslide, stop and take a breath, and remember that IT'S OKAY TO SLOW DOWN.
It's okay to stop altogether for a period of time. It's okay to read magazines for fun and sit on your porch and drink coffee and lounge. It's okay to take naps and eat long breakfasts and not do anything for a WHOLE day. No one's going to die. The cars outside won't drive off the street, and you are not God, and you certainly don't need to accomplish all your life goals by the end of this year. Good thing we have a whole life to live.
Psalm 62:1 says, "My soul finds rest in God alone; my salvation comes from Him."
Not only have I been learning that resting is okay, but from this, I know that I'll only really rest when I'm communing with God. It's a promise repeated over and over again in the Bible. God = rest for souls. It's a simple truth, and God made it simple so we wouldn't have to work hard or strain to understand.
I expect that even so, it will take me time to adjust to this. My decision is to have grace with myself in learning to rest well and  in learning to not feel like I need to be accomplishing the world each weekend.
In light of that, I've been reading poems, and here is one that I love. Enjoy.
Bed Brightening (After Les Murray)
I wanted us to talk with the sudden snaps
of carbonation misting at our lips.
I wanted you to see sky snagging trees,
tamping beetles into shade, how night
after night ribbed wings flung off dew,
My jeans are weighed with fingered rocks
and acorn hats and pulled-out springs
Oh, Orpheus--- you never got to feel
cold air on my heel or hear slow
joints of trains jolted awake
by clasping down-track cars.
The shift of light or quick knock
into life that radios make before
they play songs. These clicks shoot
off in the drawers by my bed. Glasses
chime in sinks nearby. Rabbit ears tauten
with motorcycle throttle just out
of range to guests. But every ear
is a broken bowl held back together
with fissures exposed. My room corners
curve. Dust seeps into grooves.
I am my own kind of static.
- Leila Wilson, The Hundred Grasses